New York City is where we got our legs, and our transformation is just beginning. Our SoHo location features a state-of-the-art studio, private space for one-on-one training, locker rooms and more.
415 W. Broadway, Floor 2
New York, New York 10012 [map]
(833) 378-6583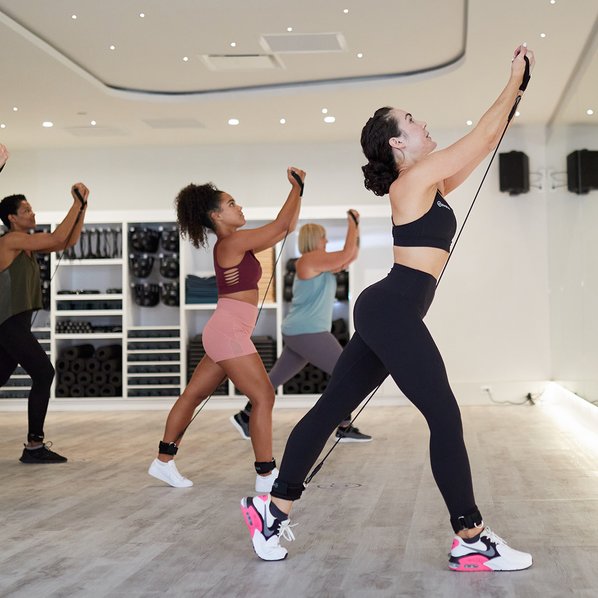 Class Formats
Our four signature classes to choose from, offered in-studio and virtually.
The Foundation
Our technique-focused class is designed to teach you the fundamentals of our method and set the foundation for all your workouts moving forward. The class is the perfect starting point for beginners or a refresher for those looking to refine their form.
SEE CLASSES
Strength & Sculpt
Our signature class blends controlled sculpting exercises with resistance training to strengthen and tone the entire body. You'll fire up every muscle all while improving your balance and mobility, so you feel stronger, longer and more energized than when you started.
SEE CLASSES
cardio burn
This low-impact, high intensity class uses a combination of cardio pushes and strength blocks to tone your body, elevate your heart rate and get you sweating in no time. You'll move through dynamic, full-bodied movements for a fun, beat-based workout.
SEE CLASSES
recover & stretch
Our recovery flow is designed to relax the muscles and relieve stress in the body. Using restorative techniques and stretching exercises to increase mobility, you'll lengthen your muscles and bring a sense of calm to the mind and body when you need it most.
SEE CLASSES
Want to book our SoHo studio for a personal event or private group class?
EMAIL TO BOOK
NYC TRAINERS